Hollsco Group - Home
The Hollsco Group is a small independent computer hardware, software and consulting company. We offer products and services related to:
Internet enabled end-user applications
Microsoft .Net custom development
Salesforce.com custom development
Hybrid mobile application development
Systems integration/middleware
Database design and architecture
Electronic design and implementation - Analog/Digital
Arduino/PIC design, programming and implementation
We would be pleased to quote you on any work you require - it will very likely cost a lot less than you expect!
The Hollsco Group also markets specialty retail applications and hardware, available for purchase from this web site.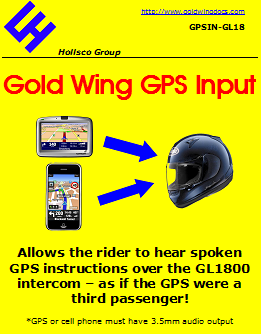 The Goldwing GPS Input Device is an electrical interface between your GPS, cell phone, laser/radar detector, or any other device that produces audio and has a 3.5mm output jack. Plugged into your device, it routes the audio directly into your Goldwing's intercom system, allowing you to hear the device just as if it were a third passenger talking! If you are listening to the radio, the radio will mute automatically when the GPS makes an announcement, just as it would if you or a passenger began talking.